Leesburg real estate ranges from grand, multi-million-dollar Colonial estates built on vast expanses of land to more affordable single-family homes starting in the $400,000+ range. Residents of Leesburg enjoy real estate that retains its resale value and attracts qualified buyers when it's time to sell. With top-notch schools, ample activities and a welcoming, friendly spirit as additional selling points, Leesburg real estate remains an attractive investment for everyone from first-time home buyers, growing families, young professionals and experienced real estate investors.
>> Search Leesburg Real Estate
All About Leesburg, VA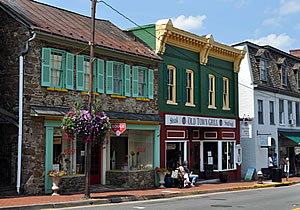 Situated just 35 miles northwest of the nation's Capital in Northern Virginia's Loudoun County, Leesburg, is a desirable home for Federal Government workers and families alike. Close enough to Washington, D.C., for a short commute to work but far enough to provide a much-needed escape from the big-city life. Leesburg is a thriving community that retains a friendly, small-town feel.
Founded in 1758, Leesburg is a top tourist destination and home to the Loudoun Museum the battle site of the Civil War's Battle of Balls' Bluff, Dodona Manor, Morven Park and the retirement home of General George C. Marshall, among other significant tourist spots.
Downtown Leesburg is home to a charming, historic district offering plenty of historic architecture and wonderful shops, restaurants and walking tours of Colonial and Civil War landmarks. Local artists are featured every month at a First Friday Gallery Walk. Residents and visitors alike enjoy relaxing strolls through downtown's galleries, craft shops and stores offering antiques and collectibles.

Leesburg VA Shopping & Dinning
In addition to the historic district, Leesburg offers a wide variety of shopping and dining options including Leesburg Corner Premium Outlets, The Village at Leesburg, as well as a Kohls, Target, Costco, PetSmart and many other retail stores. Numerous dining choices are available from casual and fast food, to fine dining – all in and around Leesburg (click here). Leesburg is conveniently located near Lansdowne, Brambleton, and up and coming One Loudoun.
The smaller towns and communities of Hamilton, Purcellville, Lovettsville, Round Hill, Herndon and Middleburg, Virginia and Poolesville and Brunswick, Maryland all are within 20 miles of Leesburg and each town has its own character and sense of community.
Leesburg Demographics and Location
A 2011 Leesburg VA demographic snapshot , shows the population of Leesburg at 44,400. The median age of city residents is 33. Forty percent of Leesburg's population are 20-44 years old.
Leesburg Resources
Leesburg Education
Tourist & Area Info
View more information related to Leesburg real estate including: Ashburn real estate and Leesburg real estate.